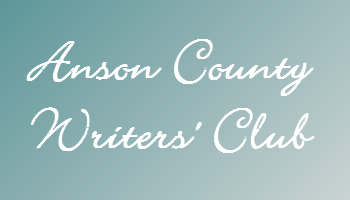 WELCOME

The Anson County Writers' Club fosters the art of writing in Anson County through support, awareness and recognition of all writers -- from the beginner to the published author.
This is accomplished through regular meetings, workshops, lectures and readings; through our annual contests in prose and poetry culminating in a public awards ceremony; and through our grant program.
The Anson County Writers' Club meets the fourth Sunday of each month (except July and December) at 3:00 p.m. (see venue in meeting announcement below).

Next Meeting
Sunday, August 27, 2017
3:00 p.m.
Election of 2017-2019 officers
Program: Open Mic

We will meet in the First Presbyterian Church fellowhip hall, 208 S. Greene St., Wadesboro.
Note: NO meeting in July
Winners of the 2016 contests in prose and Poetry. Click here for more information.
Linda Lovely (front row, left) and Robin Weaver led a workshop titled "Good Times with Your Historical Novel" Nov. 12. ACWC members attending were (back row, from left) Rhonda Wilson, Kaye Ratliffe, Sandy Bruney, Karen MacMurray, Rufus Getzen. Best takeaway: Write the story you are passionate about!