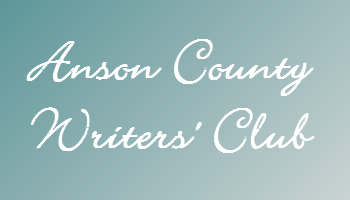 WELCOME

The Anson County Writers' Club fosters the art of writing in Anson County through support, awareness and recognition of all writers -- from the beginner to the published author.
This is accomplished through regular meetings, workshops, lectures and readings; through our annual contests in prose and poetry culminating in a public awards ceremony; and through our grant program.
The Anson County Writers' Club meets the fourth Sunday of each month (except July and December) at 3:00 p.m. (see venue in meeting announcement below).

Next Meeting
Sunday, October 22, 2017
3:00 p.m.
Program: Karen will present a program on how to use Amazon marketing Services

We will meet in the First Presbyterian Church fellowhip hall, 208 S. Greene St., Wadesboro.

Josepth Bathanti will lead a workshop on writing the short story Oct. 28 in Wadesboro, NC.

Bathanti is a creative writing professor and writer-in-residence at Applachian State University. Read complete bio here.

The workshop is limited to 15 participants. Cost is $25. It will be held at the First Presbyterian Church fellowship hall from 10 a.m - 4 p.m. with a break for lunch.

Register below.

---
Historical Research Categories

Promote Your Book Online


Copies of Anson Pathways, anthologies of past winning entries in the ACWC prose and poetry annual contests, are available at the Anson County Arts Council. $5 for AP IX; $2 for AP I through VIII.