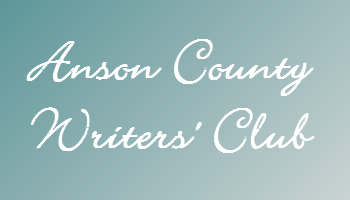 WELCOME

The Anson County Writers' Club fosters the art of writing in Anson County through support, awareness and recognition of all writers -- from the beginner to the published author.
This is accomplished through regular meetings, workshops, lectures and readings; through our annual contests in prose and poetry culminating in a public awards ceremony; and through our grant program.
The Anson County Writers' Club meets the fourth Sunday of each month (except July and December) at 3:00 p.m. in the Preston A. Burns Conference Room at the Anson County Chamber of Commerce, 107-A East Wade Street, Wadesboro, North Carolina.

Next Meeting
Sunday, February 26, 2017
3:00 p.m.
Program: Annual Awards Ceremony at Little Theater
Copies of Anson Pathways, anthologies of past winning entries in the ACWC prose and poetry annual contests, are available at the Anson County Arts Council. $5 for AP VIII; $2 for AP I through VII. Or order by email. Postage will be added to mail orders.
Linda Lovely (front row, left) and Robin Weaver led a workshop titled "Good Times with Your Historical Novel" Nov. 12. ACWC members attending were (back row, from left) Rhonda Wilson, Kaye Ratliffe, Sandy Bruney, Karen MacMurray, Rufus Getzen. Best takeaway: Write the story you are passionate about!