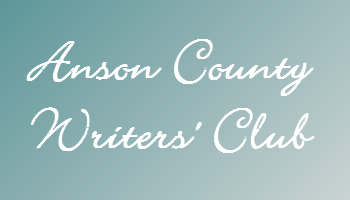 WELCOME

The Anson County Writers' Club fosters the art of writing in Anson County through support, awareness and recognition of all writers -- from the beginner to the published author.
This is accomplished through regular meetings, workshops, lectures and readings; through our annual contests in prose and poetry culminating in a public awards ceremony; and through our grant program.
The Anson County Writers' Club meets the fourth Sunday of each month (except July and December) at 3:00 p.m. in the Preston A. Burns Conference Room at the Anson County Chamber of Commerce, 107-A East Wade Street, Wadesboro, North Carolina.

Next Meeting
Sunday, September 25, 2016
3:00 p.m.
Program: Karen MacMurray: "How to Write a Page Turner"

2016 Contests in Prose and Poetry are now open!
See the Contests page for details.
Coming Up
Sept. 19: Sandy Bruney will be the guest speaker at the H.B. Allen Library's Brown Bag Book Club. Sandy will discuss "World Building" and her "A Question of..." Trilogy.


Oct. 9: The ACWC will host a booksigning with J.A. Bolton, author of "Just Passing Time," a collection of tall tales from the Pee Dee area, from 3-4 p.m. at the Little Theater, H.B. Allen Library in Wadesboro.


Nov. 12: Authors Robin Weaver and Linda Lovely will present "Good Times with Your Historical Novel" in a one-day workshop. For details, go to www.CarolinasWritersConference.org.
Copies of Anson Pathways, anthologies of past winning entries in the ACWC prose and poetry annual contests, are available at the Anson County Arts Council. $5 for AP VIII; $2 for AP I through VII. Or order by email. Postage will be added to mail orders.
Winners of the 2015 contests in prose and poetry were honored at an awards ceremony and reception Feb. 28. Read more HERE